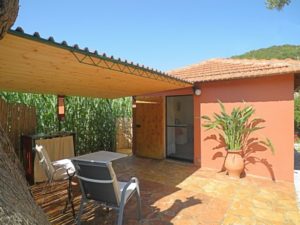 Apart from the guesthouses, our seminar leader's house is idyllically situated at the reed belt and with a view into the adjacent gorge.
The 16m² large wooden house is equipped with Air Condition, two single beds, a desk, wardrobe and a camping stove with all the necessary crockery for self-catering.
On the roofed terrace you will find a sink, a fridge with freezer compartment and sun loungers to relax after and between the seminar units.
The wooden house has a hot water connection, a spacious outdoor shower in the reeds and a stylish toilet house with water closet.
It is the perfect place to find peace and quiet away from the day's activities and to feel relaxed and at home by being close to wild nature.
Pictures